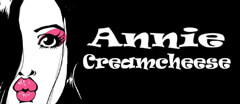 Annie Creamcheese Designer Vintage Clothing
(202) 298-5555
3279 M Street, NW
Washington DC, Washington DC 20007
Hours:
Monday - Saturday: 11 AM - 8 PM
Sunday: 12 noon - 6 PM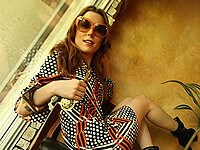 Annie Creamcheese Designer Vintage Clothing sells Fabulous Vintage Clothing & Accessories for Women!
Hi Everyone, my name is Annie Lee. Annie Creamcheese started in the fall of 2001 and was the brain child of my fiance Garrett Bauman. Garrett is a true metrosexual, a straight guy who loves fashion as much as I do (what are the chances?). We literally started our business in the tiny second bedroom of our apartment. After a few years of hard work, we opened our first brick and mortar store in Arlington, VA in April 2004. We had an overwhelming response, and our DC customers urged us to open a location in the city. We opened our doors on June 8th 2005 with a BANG! Our Georgetown store just celebrated it's four year anniversary and we opened our newest store in April at the Palazzo/Venetian Casino Resort in fabulous LAS VEGAS.

Garrett spent 20 years representing store expansion for some of the world's top retailers like Hard Rock, Blockbuster, Barnes & Noble and many more. Garrett also built and owns several small shopping centers. He has a keen fashion sense which came from his experience as a child model, super fashionable parents and a short lived career designing resort wear. Garrett's mother (Barbara) & her closet were very inspirational to me. Barbara's couture gowns from the 70's are so amazing that we can't even part with many of them. As for my mother (Jacqueline), I have always loved her custom made Ballroom Dancing gowns and her huge collection of Vintage accessories and knick-knacks. She has over 200 vintage compacts, perfume bottles and countless Whiting & Davis bags. That's what made me realize just how awesome & fun dressing Vintage can be. The fabrics, the colors, the unbelievable workmanship and style are what makes Vintage clothing so special.

And then there's me Annie aka ANNIE CREAMCHEESE. I am a clothing junkie who's obsessed with fashion. I have been collecting vintage all my life and I have a keen sense of style when it comes to mixing vintage fashion into todays styles. I love the old world glamour of the 1950s and of course the funky hip styles of the 60s & 70s. I especially love Vintage MISSONI & Emilio Pucci clothing, Vintage Gucci and Carlos Falchi purses and Vintage Charles Jordan and Ferragamo shoes. Hey I was even voted BEST Dressed in my Senior Superlatives. I was doing something right! So, after 7 years in the beauty industry pampering the rich and famous, I left my job to pursue an idea that Garrett had one night while we were watching Julia Roberts stroll down the Red Carpet in a vintage Valentino gown. Garrett knew how obsessed I was with Vintage Clothing and I told him that the DC area didn't have a good designer/couture vintage boutique and that I would have to go to NYC or Miami to find couture. So Garrett and I went on a 6 month shopping spree to find the best vintage fashions from London to LA. We did a web site, ebay, vintage shows and flea markets to start. Now we the first Vintage store in the world to open in a high end mall with some of the biggest names in fashion such as Fendi, Dior, Chloe, Barney's and others www.palazzolasvegas.com .

Since being in the business, we have had over 50 write ups in various local, national and international magazines. We have been voted Best of Washington numerous times and more recently Best of Vegas. We have also been featured on several national and international t.v. shows including the Discovery Channel, MTV, Oxygen, Extra, More Morning Show, Keeping up with the Kardashians, the 702 and other informational shows as vintage fashion experts. We even had a pilot filmed for our own reality TV show (which we are glad to say did not get picked up :)) Garrett and I are true believers that no matter what type of retail establishment you own customer service should always come first (We consider ourselves the most service friendly boutique in the country). Of course you also need a great product and people have told us that we have an "amazing eye" for great fashion and an incredible knowledge of Designer Vintage clothing. We have even recently started designing some of our own pieces from unlabeled vintage clothes.

Garrett and I are firm believers in giving impeccable service & maintaining long lasting customer relationships. We truly believe Vintage clothing can make you look and feel younger and SEXIER. Dressing Vintage is fun, different and will set you apart from the crowd. Fashion is an art form and can be expressed in many different ways.

If you have ever wondered where the worlds top Buyers shop? Now you know. Garrett and I want to welcome you to our world.

Our second shop:
LAS VEGAS
The Shoppes at the Palazzo
3327 Las Vegas Blvd South #2924
Las Vegas, NV 89109
(702)452-9600
Store hours:
Sunday - Thursday: 10 AM - 11 PM
Friday - Saturday: 10 AM - midnight
Amazing new merchandise has ARRIVED!
Clutches, Dresses, Earrings, Bracelets & Necklaces Galore
Call Las Vegas for prices and availability.
Hours:
Monday - Saturday: 11 AM - 8 PM
Sunday: 12 noon - 6 PM
More Washington DC Vintage Shops