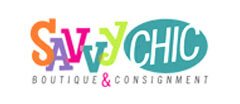 Savvy Chic Boutique & Consignment
(304) 344-9499
817 Quarrier Street
Charleston, West Virginia 25301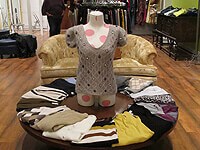 We offer a one stop shopping experience with brand name womens fashions in new merchandise, consignment and vintage clothes at a fraction of the price.
Savvy Chic, what does it really mean to each individual who sees those two words. For us it garners up many things, but in the world of fashion we love to think of just one saying that really matters, and in our opinion it should be the only thing that matters– "how do you really feel in that outfit?"

We have consignors in 7 different states that look outside their markets for new consignment venues that are not saturated with the same merchandise in their home states. This allows us to bring very unique merchandise to our state that we don't see anywhere else in town. Those featured designer finds and fabulous accessories are highly sought after in any market and we are excited to be able to offer them to our customers.

Our local consignors have increasingly fabulous finds from their travels as well as shopping trips that have grown our inventory in many ways. Some of our jewelry finds are from our talented artisans which gives us several one of a kind accessories.
More West Virginia Womens Consignment Shops