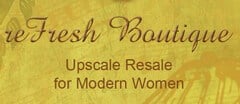 reFresh Boutique
(425) 303-3311
2829 Wetmore Avenue
Everett, Washington 98201
Hours:
Monday - Friday 10 am - 6 pm
Closed for lunch from 2 pm - 3 pm

Saturday - 10 am - 4 pm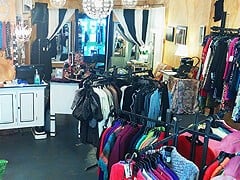 Everett's premier resale boutique, offering carefully curated fashion for women of impeccable taste. Under new ownership as of 01/26/16.
reFresh Boutique prides itself in curating the finest quality clothing for women with impeccable taste. Clothing is clean and has been owned by women who appreciate the value of giving loving care to their wardrobe.

The first thing people notice when they enter the store is the fresh scent. Many comment on it as they enter, usually with a note of surprise in their voices. The store is open, airy and offers two private dressing areas and lounge to relax and sip a cup of coffee or tea, which also serves to keep husbands and boyfriends settled happily while you shop.

reFresh offers a unique shopping experience in resale clothing -- the boutique experience.
Hours:
Monday - Friday 10 am - 6 pm
Closed for lunch from 2 pm - 3 pm

Saturday - 10 am - 4 pm
View more consignment, antique, vintage, collectible, and resale stores:
More Everett Resale Shops