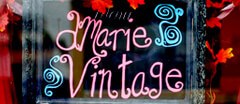 dMarie Vintage
(360) 243-3279
1009 First Street, #201
Snohomish, Washington 98290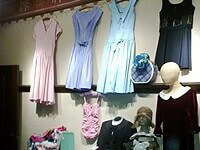 dMarie Vintage is impassioned by the panache and flair exemplified by clothing, accessories and jewelry from the demure 1880's up through the mod 1960's.
Our passion and adoration for true vintage fashion serves as the driving force behind every one-of-a-kind work-of-art hand selected by dMarie Vintage.

We are on an endless pursuit of unique objects that when worn evoke timeless sophistication, lady-like elegance and a sexy feminine vibe which only an alluring, self-assured and highly feminine woman can convey by simply entering a room.

In addition to timeless dresses, we offer a fabulous selection of vintage evening bags, lady-like purses, hats, gloves. coats, jewelry and of course, our vintage slips, gowns and nighties for after-hours.

Located in the old City Hall building, our shop is in the center of the Historic Downtown Snohomish shopping district.
More Everett Vintage Shops