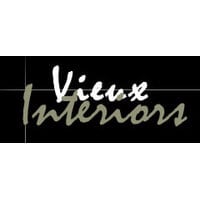 Vieux Interiors
(713) 626-9500
3701 West Alabama, Suite 160
Houston, TX 77027
Hours:
Monday - Friday 10am-5pm
Saturday 11am-3pm
Sunday closed
Vieux offers an extensive collection of French and European antiques mixed with contemporary pieces from around the world. You'll find tables, seating, chests, buffet, armoires, art, lighting, and more.
We choose from the finest shops and auctions around the world to bring exclusive furnishings to the discerning eye. We have an eye for selecting unique signature pieces.

By combining well made antique furniture with tasteful restorations, we are able to offer an extensive and exclusive collection of the very best antique pieces.
Hours:
Monday - Friday 10am-5pm
Saturday 11am-3pm
Sunday closed