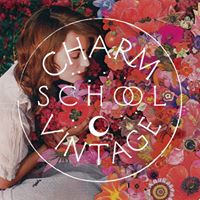 Charm School Vintage
(512) 344-9173
2109 East Cesar Chavez
Austin
Do you covet thy neighbor's boots, platforms, oxfords, wide brim hats, sequins, lace, crochet, rompers, mini skirts, and maxi dresses? We've got enough tempting vintage threads to have you start speaking in tongues!
Located in an old house in Austin, TX with her sister businesses Salon d'Etoile and the wig boutique Coco Coquette, Charm School Vintage makes up one third of the style trifecta Maison d'Etoile. We like to think of this combination of clothing, shoes, lingerie, accessories, jewelry, cosmetics, and hair as an independent department store for smart, stylish ladies and gents.

We handpick the best ladies' vintage clothing from the Victorian era to the 90?s with love and an eye towards wearability and timeless style. And the best part? South Congress style at east side prices.

Look for the big red arrow and cinder block couch!