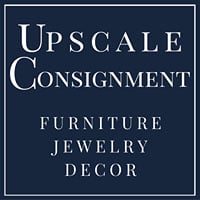 Upscale Consignment Furniture & Decor
(503) 650-6351
17785 SE 82nd Drive
Gladstone, OR 97027
Hours:
Monday - Saturday: 10AM - 6PM
Sunday: 10AM - 5PM
Our large 22,000 sq. ft showroom features quality, gently used furnishings and jewelry on consignment from the area's finest homes as well as model home furniture, closeouts, manufacturer and store liquidations, and designer showroom samples. Our fast-turning inventory means buyers get a brand new shopping experience every time they visit.
Upscale Consignment ...a home furniture consignment store in Gladstone (just minutes south of Portland) with over 22,000 sq. ft. of quality, gently used furniture, decor, and fine jewelry for sale on consignment. We accept all types of quality furniture, as well as rugs, lamps, pottery, wall art and other distinctive items for the home. You can own the most luxurious and interesting furniture and decor at 40% to 80% off retail! Be sure to check out our online showroom where you can view most of our current inventory of fabulous furniture and decor and fine jewelry. Even though our online showroom is updated daily, many items sell so quickly that they never even make it online!

If you're looking to purchase quality furniture for your home, or treasure hunting for the interesting and unexpected, make Upscale Consignment your first stop for quality furniture at incredible prices.

Buyers of gently used furniture can save 40% - 80% off the price of new. If you can't tell the difference from new, why pay the difference?

We have furniture arriving daily, so you'll always find a unique selection of one-of-a-kind treasures.

We've recently added a fine jewelry consignment department. You'll find everything from contemporary to traditional designs. Diamonds, gemstones, gold, platinum, pearls, jade, high-end watches and breath-taking custom designs!
Hours:
Monday - Saturday: 10AM - 6PM
Sunday: 10AM - 5PM
More Oregon Furniture Consignment Shops