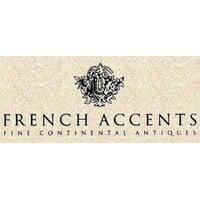 French Accents Fine Continental Antiques
(410) 467-8957
3600 Roland Avenue
Baltimore, MD 21211
Antique furniture dealer offering an extensive online gallery of exceptional continental pieces.
French Accents is an international company based specifically in the United States, Italy, and France. We work directly with European sources who have many years of experience acquiring distinctive antiques and accessories. We take personal pride in our ability to quickly respond to and satisfy requests for exceptional and singularly unique pieces; thus, saving you and your clients hours of painstaking work searching for a desired item. In addition to the antiques we are able to locate through our international network, we maintain a diverse collection of European treasures in our inventory and offer worldwide shipping.

Our knowledge, expertise, and direct access to acquiring European antiques provides designers, decorators, architects, contractors, and collectors with a broad range of stylish and tasteful European pieces. Discover antiques that illuminate a tour de force of periods and styles from the fanciful and exquisite classical spirit of Louis XVI to the symmetrical precision of Napoleon's French Empire; or from the exuberant, lavish carving of the Italian baroque to the rich, fine inlaid woods of a 19th century Austrian Biedermeier.
More Maryland Antique Shops