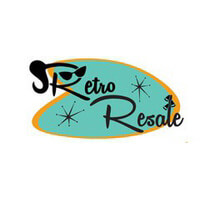 Retro Resale
(858) 300-7749
8170 Ronson Road, Suite K
San Diego, CA 92111
Hours:
Weds thru Sat 2-6pm; or by appointment, contact us by phone or email
Retro Resale San Diego offers affordable vintage, mid century and gently used furniture, collectibles, home decor and other items available for sale in San Diego.
This just in!
Mounted vintage barbed wire collection includes 20 pieces of different wire types, all from the 1800s. Mounted on a board with burlap backing and labeled "the wire that won the west". Measures 49" w x 33" t. Each piece of wire is about 20" l. One repair on the bottom corner of the frame as pictured. Great for a western themed room or restaurant.
View more recent arrivals
Vintage and Mid-Century Home Furnishings

At Retro Resale, we have a passion for things from the past. We love to find great items from a bygone era and bring them into the here and now.

Whether it is a great mid century piece of furniture or a kitschy home decor item, you are sure to find just the right thing for your home!

We are scouring the county every week, searching for interesting and unusual items, primarily vintage and mid century furniture and home decor. Buying resale helps the environment and preserves American history!

Check out our vintage flea market on the second Sunday of each month from 9-12. Our 1000 sf warehouse is open and we have vendors in the parking lot with their trunks chock full of vintage goodies!
Hours:
Weds thru Sat 2-6pm; or by appointment, contact us by phone or email
More California Vintage Shops
Vintage

Static Vintage

San Francisco, CA

Vintage to modern clothing, shoes, accessories and furniture. While the store carries a wide selection of everyday wear vintage, it also carries higher end vintage designer pieces and accessories.
Vintage

Swellegant Vintage Clothing

Newport Beach, CA

We have 1500 square feet of clothing, shoes and accessories from the 1940s to the 1980s.
Vintage

Boomerang for Modern

San Diego, CA

Since 1985, San Diego's Boomerang for modern has represented the best in well-designed furnishings from the mid 20th Century, featuring an ever-changing selection of quality vintage pieces from America, Scandinavia and Europe.