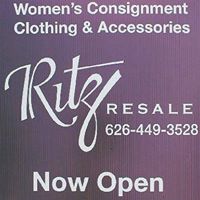 Ritz Resale
(626) 449-3528
900 Valley View Avenue, Suite 6
Pasadena, CA 91107
Hours:
Tuesday - Saturday: 11 AM - 6 PM
Sunday: 11 AM - 3 PM
Specializing in Citron, Chanel, Escada, Louis Vuitton, Gucci, and other fine fashion brand names. Since 1979.
There's something more tangible, than a feeling of virtue, after weeding out your wardrobe.

With over 20 years experience in the resale of pre-owned designer clothing and accessories, RitzResale provides a well established and professional resale service.

WHAT WE SELL:

Pre-owned designer handbags are one of our best sellers. Designer shoes are also in demand. All fine jewelry items sell quickly.

The clothing and accessories we sell include Prada, Hermes, Blahnik, Chanel, Leiber, Fendi, and Gucci, Ellen Tracy, Trina Turk, Nicole Miller, Eileen Fisher, among many others.

eBAY SALES:

In addition to in-store sales, RitzResale has been selling on eBay for over 6 years. Depending on the item, it may be listed on eBay if we feel it may bring a better price.

Our eBay sales have included an $80,000 Russian sable consigned by KCET, and a $12,000 Jacob & Co. watch from the wardrobe of actor Angela Bassett.

CONSIGNOR PAYMENTS:

Consignors receive 50% of the selling price. Payments are mailed monthly and include and itemized sales report.

Consignors may also pick up their payment, on any of their sold items, at any time during regular business hours.

CONSIGNORS MAY VIEW THEIR SALES ON-LINE:

RitzResale uses ConsignPro software that allows the consignor to view their sales on-line.





Hours:
Tuesday - Saturday: 11 AM - 6 PM
Sunday: 11 AM - 3 PM
More California Womens Consignment Shops