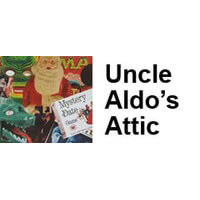 Uncle Aldo's Attic
(480) 218-1415
6024 East McKellips Road
Mesa
Hours:
Mon-Thu: 10:00 am - 6:00 pm
Fri-Sat: 10:00 am - 7:00 pm
Sun: 10:00 am - 4:00 pm
Uncle Aldo's attic is a retail store that sells vintage collectibles including board games, records, toys, costumes, books, Disney memorabilia and more.
My Uncle Aldo was the "Ground Zero" for collecting in our family. His sister collected, his son collects, his granddaughter collects, I collect, my brothers and sister collect... Whether for better or for worse (and believe me, the jury is still out on that one), he touched all of our lives with his passion for collecting... EVERYTHING! Without him, and the memories I have of wandering through his vast acres of antiques as a child, I don't know whether I would have ever caught the "collecting bug"...

However my area of collection, while stil vast, was no where near that of my uncle's. I focused primarily on board games and original vinyl records, but collect lots of things from books, video games, toys, posters, Disney memorabilia, and so much more.

Uncle Aldo is no longer with us, but his memory remains in his family's hearts.

Come back often, and see whether there's anything YOU can't live without...in UNCLE ALDO'S ATTIC.
Hours:
Mon-Thu: 10:00 am - 6:00 pm
Fri-Sat: 10:00 am - 7:00 pm
Sun: 10:00 am - 4:00 pm
More Arizona Vintage Shops