Discover 14 furniture consignment stores in Texas.
4900 N Shepherd Drive
Houston, TX
10,000 sf ft of consignment, showroom samples, liquidations, scratch-and-dent merchandise. From new to antique and everything in between.
Furniture Consignment
A passion for used & antique furniture means great deals on an incredible selection of pieces.
Furniture Consignment
3613 Shire Blvd. Suite 120
Richardson, TX
A unique blend of items from very affordable to one of a kind furniture, artwork, and chandeliers.
Furniture Consignment
2901 North Henderson Avenue
Dallas, TX
High-end furniture and large acessories, lamps, chandeliers, porcelain, artwork, artglass, sterling, silver-plate, and collectibles. Specializing in antique furniture.
Furniture Consignment
3301 Steck Avenue Suite 100
Austin, TX
Whether you love Texas Chic, Contemporary, or European Classic, Design With Consignment will have something that fits your style–at prices that will make you smile!
Furniture Consignment
2914 Oak Lawn Avenue
Dallas, TX
An upscale interior consignment showplace, which offers the perfect blend of comfort with character, tempered with quality and style.
Furniture Consignment
7989 Belt Line Road Suite #130
Dallas, TX
Upscale, designer brand furniture consignments in the North Dallas, Plano and Richardson areas. We offer top shelf furnishings and accessories.
Furniture Consignment
925 East Nasa Parkway
Houston, TX
Hidden Treasures Upscale Consignment is not your typical resale shop. Our displays and settings make you feel like you are in a showcase home. You will always find a unique and unusual selection at greater prices.
Furniture Consignment
14108 Horseshoe Bend (West)
Conroe, TX
Just Good Stuff, is a consignment shop that has a showroom of 6,OOO, with a variety of items from: Antiques, Yard Art, Vintage, Home décor, Kids outdoor toys, Pet items, and Patio furniture too.
Furniture Consignment
6722 South Broadway
Tyler, TX
Shopping at Rega's is an experience because we have a diverse group of wonderful consigners who consign high-end, one of a kind items, antiques, great artwork, primitives items, etc.. Our merchandise changes quickly therefore it is a new shopping experience every time you visit.
Furniture Consignment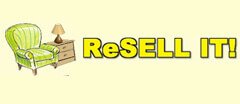 10233 East Northwest Hwy Suite Northlake Center
Dallas, TX
Home furnishings on consignment. Antique dealers shop here! E-bay sellers shop here! Best prices on furniture and home accessories in TEXAS! We offer off-site estate sale services.
Furniture Consignment
6390 Highway 105 West
Conroe, TX
Here at Riverbridge Resale & Consignment, where we offer fine, high-quality resale furniture and accessories in a variety of styles, colors and designs; all at great prices! Our spacious showroom of over 10,000 square feet is filled with an abundant selection of furniture and decorative accents.
Furniture Consignment
5200 Louetta Road Suite 138
Spring, TX
Furniture and Home Decor Consignment, 10,500 Square Foot showroom of Furniture - Art - China - Antiques
Furniture Consignment
6483 Blanco Road
San Antonio, TX
We specialize in pre-owned fine furniture and home accessories. Our items come from San Antonio's finest homes.
Furniture Consignment