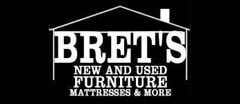 Bret's New and Used Furniture
(936) 539-4866
511 North Frazier
Conroe, Texas 77304
Hours:
Tuesday - Friday 10-5:30
Saturday 10-3
Closed Sunday and Monday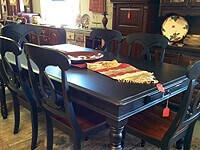 Aqua wood cabinet measures 72 inches high, 10 inches deep and 36 1/4 wide. Door features a vintage window screen with original paint. Bead board back, shelves inside. Great pantry or linen storage! Custom made one of a kind piece.
Price: $320.00
Item: 1042146546
October 1, 2016
Used Kirby G 10D vacuum in like new condition. Includes all attachments and shampoo attachment.
Price: $250.00
Item: 1042146548
September 8, 2016
A wonderful vintage sideboard in a glazed dove gray finish. Original beveled mirror. Could be used as a changing table or add a sink for a bathroom focal point. Measures 54 x 19 x 60.
Price: $530.00
Item: 1042146547
September 8, 2016
Set of Ashley dining chairs in beautiful earth tone fabric. Includes 2 arm and 4 side chairs. Very good condition.
Price: $595.00
Item: 1042146543
September 8, 2016
Antique oak cabinet with a single wide door and soft aqua interior. Perfect display for your sea shell ( or other) collection! Measures 61 high, 8 inches deep and 50 inches wide.
Price: $589.95
Item: 1042146276
August 12, 2016
Make a big impact with this 75 x 23 console piece. Can be used indoors or out. Carved lion heads on perimeter of top piece.
Price: $599.00
Item: 1042143251
April 21, 2016
Vintage Heywood Wakefield corner table, champagne finish. Large scratch on top, needs refinishing. Bargain priced-fix-up piece.
Price: $150.00
Item: 1042142205
March 3, 2016
Vintage bar with electric wood stove heater insert. Lighted upper compartments. fold up for closed storage. Measures 50" wide by 16 1/2 deep and 42" high. Floor space required is 21 inches for base.
Price: $590.00
Sale Price: $490.00
Item: 1042142162
March 3, 2016
Unique yard art or porch accent piece. 37 inches high, heavy solid wood-won't blow over!
Price: $79.95
Item: 1042142022
February 26, 2016
&nbsp&nbsp&nbsp1&nbsp&nbsp&nbsp
Hours:
Tuesday - Friday 10-5:30
Saturday 10-3
Closed Sunday and Monday
Please note that some items may be sold by the time you see them online. Please call to confirm a specific item is available, or visit to see everything in our store. Not responsible for typographic errors in price or description.
More Houston Resale Shops