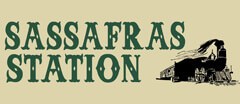 Sassafras Station
(903) 342-1300
300 East Elm Street
Winnsboro, Texas 75494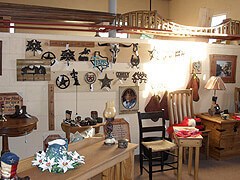 Rustic/Ranch Style Furniture and Western Decor Items, Fashion Jewelry, Purses, Antiques and Art
Sassafras Station is your eclectic mix of G Scale Trains and Building along with:

Custom Leather Gun Belts and Holsters along with Saddlebags, Chaps, Cell Phone Cases, Knife Sheaths and more

Western Style and Old West Clothing from Frontier Classics, Scully and Wah Maker.

SASSAFRAS STATION offers you a wide variety of quality products. Located in Winnsboro, Texas, we understand the personal touch needed to make any shopping experience great. Our staff will help you find with that custom Gun Belt and Holster. From Chaps to Saddlebags, from Knife Sheaths to Pouches we can custom make it to fit.
More East Texas Collectibles Shops