Discover the best furniture consignment stores in Dallas & Ft. Worth, Texas.
3613 Shire Blvd. Suite 120
Richardson, TX
A unique blend of items from very affordable to one of a kind furniture, artwork, and chandeliers.
Furniture Consignment
2901 North Henderson Avenue
Dallas, TX
High-end furniture and large acessories, lamps, chandeliers, porcelain, artwork, artglass, sterling, silver-plate, and collectibles. Specializing in antique furniture.
Furniture Consignment
2914 Oak Lawn Avenue
Dallas, TX
An upscale interior consignment showplace, which offers the perfect blend of comfort with character, tempered with quality and style.
Furniture Consignment
7989 Belt Line Road Suite #130
Dallas, TX
Upscale, designer brand furniture consignments in the North Dallas, Plano and Richardson areas. We offer top shelf furnishings and accessories.
Furniture Consignment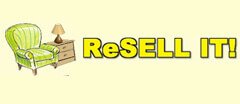 10233 East Northwest Hwy Suite Northlake Center
Dallas, TX
Home furnishings on consignment. Antique dealers shop here! E-bay sellers shop here! Best prices on furniture and home accessories in TEXAS! We offer off-site estate sale services.
Furniture Consignment
View more consignment, antique, vintage, collectible, and resale stores: