Discover 30 consignment, antique, vintage, collectible, boutique and other unique resale shops in Oregon.
2264 NW Raleigh Street
Portland, OR
Seams to Fit is a family run women's consignment shop based on friendliness, integrity and trust. We strive to make shopping a multi-faceted experience, providing a wide variety of high fashion under one roof.
Womens Consignment
8625 SW Scholls Ferry Road
Portland, OR
Clothing for men, women, and children and children's furniture.
Womens Consignment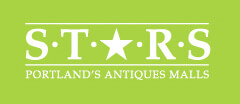 7030 South East Milwaukie Avenue
Portland, OR
Stars & Splendid Antiques Mall has over 100 dealers covering 10,000 square feet of antiques.
Antique
7027 South East Milwaukie Avenue
Portland, OR
Portland's largest and best antiques mall with two locations and 250+ dealers. We have everything you will be looking for.
Antique
1313 West Burnside Street 4th floor
Portland, OR
In addition to being a furniture store, The Good Mod is a multi faceted design studio offering services including design/build, upholstery, and expert furniture restoration, to name a few.
Vintage
1204 NW Glisan Street
Portland, OR
Thea's is an antique shop in Portland, Oregon offering an eclectic blend of furniture, accessories, jewelry & more, from the 1800s to the mid. C. retro vintage.
Antique
14988 2nd Street NE
Aurora, OR
The Largest Inventory of Vintage Elegant and Depression Glassware in Oregon.
Antique
17785 SE 82nd Drive
Gladstone, OR
Our large 22,000 sq. ft showroom features quality, gently used furnishings and jewelry on consignment from the area's finest homes as well as model home furniture, closeouts, manufacturer and store liquidations, and designer showroom samples. Our fast-turning inventory means buyers get a brand new shopping experience every time they visit.
Furniture Consignment
4035 SE Division Street
Portland, OR
Village Merchants is a resale consignment shop that sells everything under the sun including clothing, furniture, and housewares in all styles ranging from retro, vintage, to modern.
Furniture Consignment
439 SE Grand Avenue
Portland, OR
We carry authentic mid-century pieces, antiques, contemporary and modern designs, local artwork, niche pieces and so much more.
Furniture Consignment