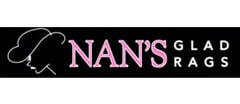 Nan's Glad Rags
(503) 642-9207
21325 SW Tualatin Valley Highway
Aloha, Oregon 97003
Hours:
Monday - Saturday: 10 AM - 6 PM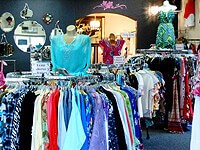 You will find everything at Nan's, from trendy to classic styles, from casual to career wear, as well as evening clothes and dazzling new jewelry.
Our great selection of designer clothing, shoes, and handbags are priced at a fraction of department store prices.

Fresh wonderful items are put on the racks daily, so it's best to stop by often to see what's new and exciting at Nan's!

Inspired by the excitement and uniqueness of the world of resale, Nan Harding opened Nan's Glad Rags in March of 1979 as a hobby. Operating out of a pair of quaint older homes in the historic Orenco neighborhood of Hillsboro, the business grew to include resale clothing for men, women, and children, as well as vintage clothing and costumes.

In 1991 Nan's moved to it's current location on Tualatin Valley Highway in Aloha, where it occupied two full floors. The focus returned to clothes, with the women's, men's, and children's clothing on the ground floor and a huge costume department upstairs. Nan's Glad Rags continued to thrive with the help of loyal and dedicated customers who always keep the store lively and fun.

When Nan retired in 2002, her daughter Julie took over the store, moving the whole store to the upper level and specializing in high-quality women's resale. After a whirlwind remodel, the store reopened with a new look and feel and the same commitment to great clothes at unbelievable prices. Customers love Nan's granddaughter Rachelle.

Since then, Julie has streamlined the business with new ideas and technology while engaging her flare for decorating and design. Nan loves the store and the customers (and the clothes), so you'll still find her in the shop helping out.

Over the years, Nan's husband, children, and grandchildren have all been involved in the business, making Nan's Glad Rags a truly "family affair". Drop by any time and join our ever-growing family!
Hours:
Monday - Saturday: 10 AM - 6 PM
More Oregon Womens Consignment Shops