Discover 5 antique stores in Oregon.
145 2nd Avenue SW
Albany, OR
Our two-story mall features 20,000sq ft. of antiques, collectibles and vintage clothing. With over 70 dealers you're sure to find something special while browsing our beautifully displayed items.
Antique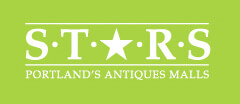 7030 South East Milwaukie Avenue
Portland, OR
Stars & Splendid Antiques Mall has over 100 dealers covering 10,000 square feet of antiques.
Antique
7027 South East Milwaukie Avenue
Portland, OR
Portland's largest and best antiques mall with two locations and 250+ dealers. We have everything you will be looking for.
Antique
1204 NW Glisan Street
Portland, OR
Thea's is an antique shop in Portland, Oregon offering an eclectic blend of furniture, accessories, jewelry & more, from the 1800s to the mid. C. retro vintage.
Antique
14988 2nd Street NE
Aurora, OR
The Largest Inventory of Vintage Elegant and Depression Glassware in Oregon.
Antique