Discover the best consignment, antique, vintage, collectible, boutique and and other unique resale shops in Albany, New York.
111 Remsen Street
Cohoes, NY
A unique blend of historically significant items, traditional antiques and fine art, stylish objects, rare and out-of-print books, printed ephemera, manuscripts, photographs.
Antique
1811 Western Avenue
Albany, NY
Fifi's is the best women's consignment store in the area! We carry everything from casual to evening wear. Accessories are the cats meow from purses, shoes, scarves, and brand new Spring jewelry!
Womens Consignment
1603 Route 9
Clifton Park, NY
Voted #1 consignment shop in Capital Region Living Magazine. Our goal is to bring our customers upscale merchandise at affordable prices.
Womens Consignment
69 George Street
Fort Anne, NY
Vintage jewelry and clothing; postcards, magazine and ephemera; tools and lighting, artwork and prints; salt and pepper shakers; glassware; unique birdhouses, and so much more.
Antique
1163 State Route 17B
Mongaup Valley, NY
We carry quality jewelry, fashion, accessories, home furnishings, antiques and decorative arts - all chosen with an eye toward beauty, excellent condition and dramatic impact.
Vintage
32 Fuller Road
Albany, NY
THE SOURCE of Fabulous Vintage Clothing. Dresses, FURS, JEWELRY, shoes, purses, accessories of all types, menswear, everything AUTHENTIC VINTAGE.
Vintage
618 Warren Street
Hudson, NY
6000 sq. ft. of 1940-1960's moderne.
Vintage
2100 Doubleday Avenue
Ballston Spa, NY
Come in and browse our 2500 sq. feet of gently used, brand name & designer wear, along with many new tagged items.
Womens Consignment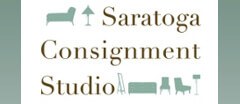 3306 South Broadway
Saratoga Springs, NY
Make Saratoga Consignment Studio your home for buying high quality, gently used, home furnishings and accessories. Shop our upscale studio! We're sure you'll be pleased
Furniture Consignment
20 Learned Street
Albany, NY
We offer an eclectic variety of decorative architectural salvage, reclaimed wood, and custom reclaimed wood furnishings.
Antique
1969 New Scotland Road
Slingerlands, NY
Come and feel like you have stepped back in time.
Furniture Consignment
View more consignment, antique, vintage, collectible, and resale stores: