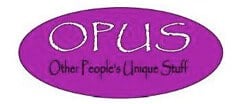 OPUS Designer Consigners
(603) 645-6787
194 South Main Street
Manchester, New Hampshire 03102
Hours:
Monday: 10 AM - 5:30 PM
Tuesday: Closed
Wednesday: 10 AM - 5:30 PM
Thursday: 10 AM - 8 PM
Friday - Saturday: 10 AM - 5:30 PM
Sunday: 11 AM - 4 PM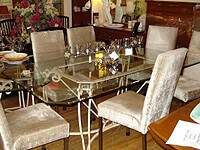 From bureaus to bookcases, lighting to linens, paintings to pocketbooks, we carry a variety of items for your home and personal gift giving.
Your home says a lot about you, reflecting your interests, tastes and personality. With an eye for detail and a mind for comfort and functionality, OPUS can help you create your personal style affordably. We have a 3700 foot showroom packed with furniture, clothing, jewelry and a collection of home and bath items. OPUS is a brilliant solution to an affordable approach to elagance & design while concurrently the ultimate nod to recycling.

Our expertise is in home design including knowledge in furniture, jewelry, textiles and decorative painting. Our mission is to provide high quality products and reliable customer service.

Everyday, furniture is thrown away and labeled trash, when in fact, most pieces are reusable and can be given a new life with just a little imagination and creativity. A new consciousness of eco-design and green living is gaining momentum and again & again and we are excited to be part of that movement, by reusing the things we have, we reduce the impact on our planet for future generations.

So if it is time to clean out your closets, update your dinning room or clear out your parent's home, OPUS Designer Consigners can assist you with selling your items. OPUS specializes in estate liquidation, furniture & decorative accessories of all styles, designer clothing, jewelry, collectables, home and bath products and NH made items.

Along with consignment we also do home liquidations, estate sales & auctions, not to mention , we know some movers and shakers which allows us to find some really cool pieces at great prices.

We do our best to keep up with our ever changing inventory but the best way to see it is come in for a visit. If you see something you like, buy it, don't hesitate-- because it wont be here tomorrow. The 'real cool' stuff gets snapped up fast!
Hours:
Monday: 10 AM - 5:30 PM
Tuesday: Closed
Wednesday: 10 AM - 5:30 PM
Thursday: 10 AM - 8 PM
Friday - Saturday: 10 AM - 5:30 PM
Sunday: 11 AM - 4 PM
More New Hampshire Furniture Consignment Shops