Discover 1 consignment, antique, vintage, collectible, boutique and other unique resale shops in Montana.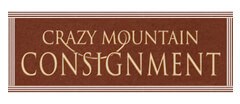 2530 North Montana Avenue
Helena, MT
Crazy Mountain Consignment is Helena's most trusted consignment store. Here you will find the best hand-selected merchandise available. We consign quality products such as furniture, clothing, works of art, children's toys, jewelry, and other items that meets our standards for quality.
Furniture Consignment