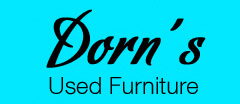 Dorn's Used Furniture
(410) 452-8500
1632 Main Street
Whiteford, Maryland 21160
Hours:
Tuesday thru Saturday-10am-6:30pm, Sundays 12noon-4pm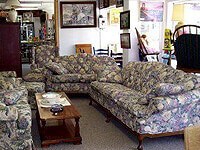 Dorn's used furniture store is the place to come for top quality used furniture, antiques, & home accessories at low prices.
This just in!
Hutch-cherry, made by American Drew in North Carolina. It is a large hutch, 87 inches tall, 60 inches long, and 20 inches deep. All 4 doors open. Top quality, excellent condition. Only $395.00
View 15 more recent arrivals
We offer solid wood furniture from Ethan Allen, Thomasville, Kling, and other fine furniture makers here in the USA. We offer sofas, recliners, and living room chairs by Lazyboy, Thomasville, Broyhill, and others.
We also have a select group of antique furniture pieces from the mid-1800's-early 1900's. These pieces are all handcrafted and are in excellent condition.
We also have an abundance of home accessories such as lamps, mirrors, pictures, and housewares such as dishes, cookware, and decorative items.
Hours:
Tuesday thru Saturday-10am-6:30pm, Sundays 12noon-4pm
More Maryland Resale Shops