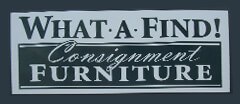 What A Find! Consignment Furniture & Home Decor
(508) 997-0166
154 Huttleston Avenue (Rt 6)
Fairhaven, Massachusetts 02719
Hours:
Monday: Closed
Tuesday, Wednesday, Thursday, Saturday: 10 AM - 5:30 PM
Friday: 11 AM - 7 PM
Sunday: 1 PM - 4 PM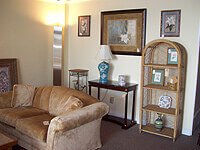 You will be pleased with the variety and cleanliness of our selections. Well made furniture stands the test of time. We take in only quality pieces.
WHAT A FIND! opened its doors in October 2009.

For many years the building was home to Modern Galleries. In 2008 they closed their Fairhaven location.

Built by Clifford Leach in 1951, it was first known as Leach Furniture. Through the years it has always remained a furniture store.

We have taken a different approach to the industry and have opened as a consignment furniture store! In these days when recycling is posh, we feel this is a good fit!

Consignors are welcome to contact us regarding placing their furnishings for us to sell. We look for items that are in good to excellent condition, clean and ready to put on the showroom floor.

If you are looking to buy or sell furniture and home decor please stop in and visit us at WHAT A FIND!
Hours:
Monday: Closed
Tuesday, Wednesday, Thursday, Saturday: 10 AM - 5:30 PM
Friday: 11 AM - 7 PM
Sunday: 1 PM - 4 PM
More Massachusetts Furniture Consignment Shops