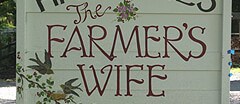 The Farmer's Wife
(781) 603-3236
539 Bay Road
South Easton, Massachusetts 02375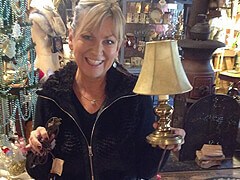 Situated on historic Bay Road, this three hundred year old barn is full of many unique collectibles, antiques, gift ideas, soothing music & wonderful scents.
A historic 300 yr old barn selling Antiques

Vintage Wares ~ Primitives ~ Shabby ~ CottageDecor & Furniture ~ Seasoned FireWood ~ Fresh Farm Eggs ~ Local Raw Honey

We started selling our fresh eggs and garden vegetables (hence the name) from our small, but adequate, farm stand about two years ago. I personally collect the eggs daily, package them and have a convenient bird house collection box (honor system) for purchasing them. We also sell fresh cut firewood bundles the same way. For the most part, this works out well and offers the commuters traveling Bay Road the opportunity to purchase what they need and "honor thy neighbor".

I decided to start displaying my collectibles in a portion of the three story barn. From there, the recommendations to start a small antique business began. I started opening the big barn door several months ago and I soon realized that word does travel fast in a small town! I've gotten lots of great feed back so far and I really appreciate everyone's support .

Constantly changing, it is a work in progress. When you're a barn that's almost 300 years old, anything and everything can happen! The inventory is a unique mix of old and new with something for everyone.
More Massachusetts Antique Shops