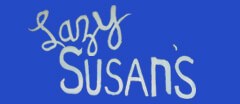 Lazy Susans
502-409-5298
1006 Barret Avenue
Louisville, Kentucky 40204
Hours:
Wed 11 am - 5 pm
Thurs 11 am - 7 pm
Fri 11 am - 5 pm
Sat 11 am - 5 pm
Sunday: 12 pm - 5 pm
We are a locally owned shop located in the Highlands neighborhood. Our inventory ranges from antiques and collectibles to thrift store finds.
This just in!
Really cute, 2 drawer side stand. Top has yellow zebra stripes, drawer fronts are pink and lime green zebra striped. Measures approximately 17 X 15 X 22.
View 16 more recent arrivals
We feature: Derby and Sports Memorabilia, Books and Albums, Glassware and China, Silver and Brassware, Furniture and Fixtures, Pictures and Artwork, as well as Repurposed Items.
Hours:
Wed 11 am - 5 pm
Thurs 11 am - 7 pm
Fri 11 am - 5 pm
Sat 11 am - 5 pm
Sunday: 12 pm - 5 pm
More Kentucky Antique Shops