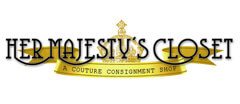 Her Majesty's Closet
(913) 341-7774
4113 West 82rd Street
Prairie Village, Kansas 66208
Hours:
Monday - Friday: 10 AM - 5 PM
Saturday - Sunday: 9 AM - 4 PM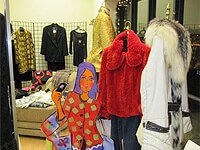 Her Majesty's Closet is a high-end designer consignment boutique inspired by pop-up designer shops and boutiques on both the East and West Coasts. From the likes of Chanel, Louis Vuitton, St. John, Minolo Blahnik, and Louboutin, we have it all!
Inspired by pop-up d esigner shops on the East Coast and designer boutiques on the West Coast, you will find it all here at Her Majesty's Closet. From the likes of Bill Blass, Geoffrey Beene, Nina Ricci, Paulene Triggere, Yves Saint Laurent from our designer's of past, or Chanel, Prada, Minolo Blahnik, Gucci or Louboutin, au current, we have it all.

Nestled in the heart of Corinth, in Prairie Village, Kansas, this quaint and wonderful store can accommodate your whims and desires for designer fashion at affordable prices.

If you're looking to shop high fashion at low prices, you've come to the right place. HMC has some of the best consignment couture in the nation- and it's all right at your fingertips. Whether you're shopping with us online or come into the store, you will find a treasure at a fabulous price! Need more closet space? Turn your closet into cash and free up some room for more shopping, by becoming a consignor at Her Majesty's Closet! No matter what it is you're looking for, if it has to do with fashion- this is the place to be!
Hours:
Monday - Friday: 10 AM - 5 PM
Saturday - Sunday: 9 AM - 4 PM
More Kansas Womens Consignment Shops