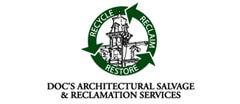 Doc's Architectural Salvage & Reclamation Services
(800) 262-3389
1325 West 30th Street
Indianapolis, Indiana 46208
Hours:
Monday - Saturday: 10AM - 5:30PM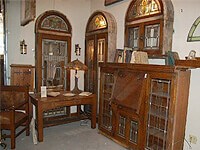 32,000 square feet of architectural salvage and antiques. We have antique doors and windows, hardware, unique fireplaces, dazzling lighting fixtures, fabulous furniture, collector glassware, glorious garden statuary, and more!
In a world where everything is being recycled, structures containing architectural artifacts are often overlooked. Buildings are torn down and taken to landfills without any regard for their contents. Help us in our efforts to recycle these treasures and preserve the craftsmanship of yesterday. If you are planning on tearing it down, whether it is a barn or a building, give us a call before the wrecking crew arrives. It could prove to be a profitable and rewarding decision for you.

Some of the things we carry include fine period antiques, stained glass windows, ceramics, pottery, stonework, ironwork, statuary, plumbing fixtures, doors, hardware, terra-cotta, woodwork, furniture, reproductions and many more interior and exterior furnishings.

White River Architectural Salvage & Antiques Co. also offers furniture stripping and repair, as well as dismantling and contract salvage services. Often Church's and Schools plan to rescue and salvage some significant part of a structure that has been slated for demolition. We can remove it...and keep it from being destroyed by the wrecking ball. White River Salvage and Antiques has a dedicated crew, heavy construction equipment, and the know how to handle the job. We are also licensed, bonded and fully insured.

Come in and share your ideas with us, bring in your sketches, floor plans, and photographs to work from. We would be happy to help you find what you are looking for.
Hours:
Monday - Saturday: 10AM - 5:30PM
More Indiana Antique Shops