Discover 3 furniture consignment stores in Indiana.
11659 Fox Road
Indianapolis, IN
We have a wide variety of high end quality furnishings as well as many eclectic pieces. From love seats to sectionals, from wing backs to straight back dining chairs, we always have a great variety of items.
Furniture Consignment
7844 Indiana 66 Suite P
Newburgh, IN
We are much like visiting a new furniture showroom, however with gently used merchandise and a tremendous opportunity for savings! Design consultants arrange our sales floor with experience in staging, interior design, and furniture sales.
Furniture Consignment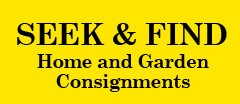 2916 Oak Hill Road
Evansville, IN
Household decor and designer quality furniture and accessories. Free in-home consultation, pick-up and delivery service. Telephone: (812) 437-FIND (3463)
Furniture Consignment