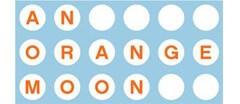 An Orange Moon
773-276-ORAN
2418 West North Avenue
Chicago, Illinois 60647
Hours:
Wednesday-Saturday: 12 Noon - 7 PM
Sunday: 12 Noon - 5 PM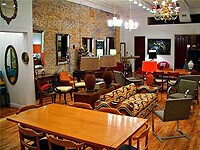 Modernists, Artist, Collectors, Designers & Lovers of all things beautiful! We are An Orange Moon! Chicago?s own Uber Hip Vintage furniture showroom. We vibe MID CENTURY MODERN, Industrial, French, Victorian, Vintage Lighting, Art & Accessories. Come see why we were voted THE BEST by the Chicago Reader & The University of Chicago Weekly.
We are An Orange Moon! LOCATED AT 2418 W NORTH AVE. We are Chicago's Mid Century Modern furniture specialist! We also offer Retro, Jet Set Modern, Industrial, French, Victorian, Steampunk, Vintage Lighting, Mirrors, Art & Accessories. Our prices range from "Our 1st Place," to "Selling NY." We'd LOVE to stage your condo, SFH, apartment or loft! Ask about our "Re-MIX & RE-IMAGINE" special, where we use what you have. Need help with an estate? Allow us to handle all the particulars for you. & get this...NO UPFRONT FEES!! Set designers & Studio Industry folks? YES WE RENT! Bottom line--we LOVE design! Visit us in the summer for a quick shot of Cazadores Tequila. During the winter we prefer Heno VSOP. And of course ice cold Corona's all year round. Musical arrangements provided by resident VJ, T-MAC! Come RE-MIX & RE-IMAGINE your home with An Orange Moon! Be the envy! PayPal, Cash, Mastercard, Visa & Discover accepted. Delivery available CITYWIDE

We conduct ESTATE SALES with NO UPFRONT FEES! We also BUY ENTIRE ESTATES! Guten Tag!
Hours:
Wednesday-Saturday: 12 Noon - 7 PM
Sunday: 12 Noon - 5 PM
More Chicago Vintage Shops