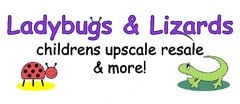 Ladybugs and Lizards
(770) 594-0088
1123 Alpharetta Street
Roswell, Georgia 30075
Hours:
Tuesday - Saturday: 10 AM - 6 PM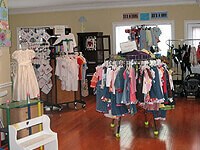 Quality Clothing & Equipment at a Fraction of the Original Cost! Newborn to Size 16 for both boys & girls.
At Ladybugs & Lizards we believe you will find only high quality children's clothing, shoes and accessories at very reasonable prices. We also offer embroidery and monogramming service and carry Roswell's largest selection of hair bows. Since we don't consign clothing items, we purchase them outright; you will only find the best of the best. We inspect every item for stains, holes and missing buttons, as well as, check zippers to make sure they work. This is all done, before the items make it to the sales floor. This makes our selection the cream of the crop!

Since our inventory changes daily, stop by often and take advantage of our Frequent Shopper Progam. If you are looking for a particular item, feel free to call us and we can check our inventory. If we don't have it in stock, we can put you on our wish list. If the item you are looking for, or something similar should come in, we will give you a call.

Come by and check us out and see why we were voted "Best Children's Clothing Store in Roswell" 4 years in a row!

We also carry children's watches from The Kid's Watch Company. These are just adorable and come in many colors and styles. There are monkeys, frogs, trains, flowers and hearts, just to name a few.
Hours:
Tuesday - Saturday: 10 AM - 6 PM
More Georgia Childrens Consignment Shops