Discover the best childrens consignment stores in Orlando, Florida.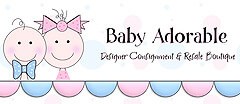 7800 South US Highway 17-92
Fern Park, FL
aby Adorable Designer Consignment and Resale Boutique is Central Florida's premier BUY, SELL and TRADE boutique exclusively for Baby, Toddler and Mommy-To-Be. We specialize in name brand and designer clothing, nursery furniture, baby gear, accessories, toys, and maternity items.
Childrens Consignment
View more consignment, antique, vintage, collectible, and resale stores: