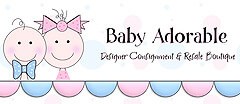 Baby Adorable Designer Consignment & Resale Boutique
(407) 261-2229
7800 South US Highway 17-92
Fern Park, Florida 32730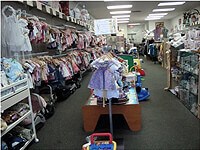 aby Adorable Designer Consignment and Resale Boutique is Central Florida's premier BUY, SELL and TRADE boutique exclusively for Baby, Toddler and Mommy-To-Be. We specialize in name brand and designer clothing, nursery furniture, baby gear, accessories, toys, and maternity items.
You will find that Baby Adorable is not like any other consignment or resale store around - we offer you the best of both worlds! In addition to saving you a bundle when you shop with us, we can also help stretch your shopping budget even further by you becoming one of our suppliers.

We offer consignment and buy quality high-end merchandise outright for cash, trade for store credit. We are super selective about the items we sell and only accept new or nearly-new designer and name brands. We are also very picky on how all our merchandise looks in our boutique.

Everything is so well organized that if you are looking for something in particular, we can tell you in an instant if we have it in stock. We also use a specially designed computer software program to inventory all our merchandise. This helps us keep track of the ownership of each and every item in our boutique.
More Orlando Childrens Consignment Shops