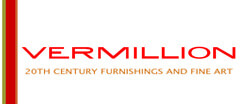 Vermillion
(305) 893-7800
765 North East 125th Street
Miami, Florida 33161
Hours:
Monday - Saturday: 11 AM - 6 PM
Or by appointment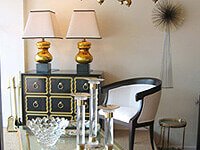 20th century European and American Furnishings, inclusive of furniture, lighting, glass, sculpture, fine art, ceramics and decorative arts from the 1940's- 1980's.
Vermillion is an exciting gallery established in 2004. Located in North Miami, Florida, across from the Museum of Contemporary Art, it is an important destination for interior designers, architects and collectors interested in 20th Century Modern and Classic Furnishings, Decorative and Fine Arts.

Vermillion's specialty reigns with well-known and collectable designer pieces juxtaposed with pieces of great flair and edge. From the 1940's through the 1990's, one will always find amazing pieces that will feast the eyes and the astute palate. Vermillion's extensive and ever changing inventory encompasses continents of Europe, and America, and other global areas. Vermillion has earned regional, national, and international clientale.
Hours:
Monday - Saturday: 11 AM - 6 PM
Or by appointment