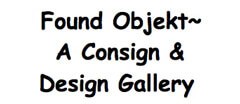 Found Objekt ~ A Consign & Design Gallery
(239) 273-1345
24181 Tamiami Trail South
Bonita Springs, Florida 34134
Hours:
Tuesday - Saturday: 10:30 AM - 4 PM

Off Season
Tuesday - Saturday: 10 AM - 4 PM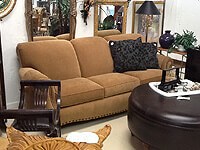 All our customers tell us Found Objekt is their FAV consignment galley. Maybe it's the mood, the gorgeous higher end furniture (yes I AM fussy about what I take in) or the selection! We have So many choices, accessories, and lighting too. Stop in and be impressed!
We are an eclectic mix of the funky, fun, and unusual!

We look small from the front but there is over 3,000 sf of beauty to behold once you step inside!

We consign all fine furniture, home accessories, a sprinkling of antiques, and even lighting fixtures!

Visit our artisan gallery that is full of local artists ever-changing objects of beauty!

Come on in...you are bound to fall in love with Found Objekt..our customers tell us it's their all time FAV consignment store!!
Hours:
Tuesday - Saturday: 10:30 AM - 4 PM

Off Season
Tuesday - Saturday: 10 AM - 4 PM
More Fort Myers Furniture Consignment Shops