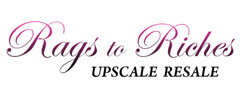 Rags to Riches Upscale Resale
(302) 654-5997
5712 Kennett Pike
Centerville, Delaware 19807
Hours:
Monday - Tuesday: 10 AM - 5:30 PM
Wednesday - Thursday: 10 AM - 6 PM
Friday: 10 AM - 5:30 PM
Saturday: 10AM - 5PM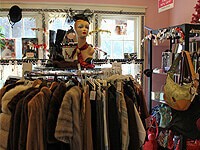 Designer Clothing, Jewelry, Handbags and Shoes; Vintage Clothing and accessories.
We specialize in Designer & Couture apparel and accessories. You will find everything from upscale, elegant day and casual wear to evening, cocktail & vintage party wear.

From the latest New York Designer labels, to that one-of-a-kind ensemble from the 1950s, if it's fabulous, and if it's fashionable, it doesn't matter how old it is! You can find it here!
And don't forget all the accessories that make any outfit perfect; shoes, handbags, jewelry, hats, coats, furs, etc.

Rags to Riches has been a Centreville icon since it was started in 1976. Located in the heart of duPont chateau country, surrounded by the beautiful duPont estates of Longwood Gardens, Winterthur Museum, Brantwyn, Grenoche, and Nemours, our consignments come from the areas best dressed who shop in premier boutiques coast to coast, and in stores from all over the world.
Hours:
Monday - Tuesday: 10 AM - 5:30 PM
Wednesday - Thursday: 10 AM - 6 PM
Friday: 10 AM - 5:30 PM
Saturday: 10AM - 5PM
More Delaware Womens Consignment Shops