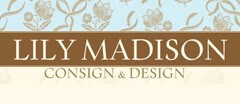 Lily Madison Consignment
(860) 563-3206
53 New Britain Avenue
Rocky Hill, Connecticut 06067
Hours:
Monday - Friday: 11 AM - 5:30 PM
Saturday: 11 AM - 4 PM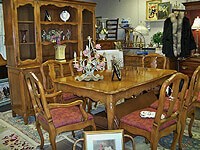 Central Connecticut's Unique Boutique offering New and Recycled Fine Home Furnishing on Consignment.
At Lily Madison you will find that our merchandising and retail experience will benefit any item you choose to consign with us. Reasons to Consign and shop Lily Madison:

We offer a 50/50 commissions split.
Customer on line account balance update (simply type in code we provide you, and check your balance daily)
Sophisticated and Refine boutique atmosphere
Friendly service

Who shops at Lily Madison

Lily Madison is a perfect shop for one who has great taste and loves a great deal!

Services

At Lily Madison we can help you transform a dull and impersonal space into one that is inviting and warm. Here is a list of services we provide:

Staging- Are you selling your home and want to create a great "First Impression?" Staging prepares your home for this competitive Real Estate Market. It's a great way to set your home apart from the others.

Color Consultation- Are you afraid of Color? Don't be. Color can change the mood of a room and complement the furniture you already have.

Interior Redesign - Involves the artful re-arrangement of the furniture artwork and accessories you already own and love. We will be happy to assist you in putting it all together.

Personal shopping - Are you too busy to go shopping? We are here to help. Let us know what you are looking for and we will be happy to accommodate you in finding that special something.

LILY MADISON PRIDES ITSELF ON QUALITY, DISTINCTION AND SATISFACTION!
Hours:
Monday - Friday: 11 AM - 5:30 PM
Saturday: 11 AM - 4 PM
More Connecticut Furniture Consignment Shops