Discover 6 antique stores in Connecticut.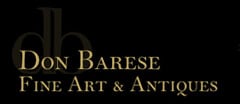 3651 Whitney Avanue
Hamden, CT
Buying & Selling Worldwide. Specializing in Fine Art, Antiques, Gold & Silver, Art Appraisals and Estate liquidations.
Antique
22 Seldon Street
Woodbridge, CT
We specialize in 16th-19th century copper and brass, including lighting, fireplace equipment, copper cookware, and decorative accessories. We also deal in tobacco related items including snuff and tobacco boxes.
Antique
50 South Road
Harwinton, CT
In business for over 27 years, 2 shops in one location, 20,000 used, rare and out of print books. Vintage clothing, jewelry and accessories, china and glassware.
Antique
114 West Granby Road
Granby, CT
Nug & Bug Antiques where you'll find furniture, art, glassware, jewelry, textiles, shabby chic, & flea market treasures- in a big old beautiful red barn!
Antique
21 East Main Street
Avon, CT
Old Village Antiques, located in historic Old Avon Village, is the valley's most interesting and unique destination for those in search of high quality, beautifully restored and fairly priced antique furniture & accessories.
Antique
283 Main Street
New Hartford, CT
Welcome to The Collinsville Antiques Co. of New Hartford One of New England's Largest Antiques Shops. With 22,000 sq. feet of one floor shopping bliss offering hundreds of thousands of items including, furniture, lighting, jewelry, collectibles and just cool stuff.
Antique