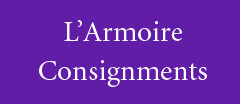 L'Armoire Consignments
(510) 527-8026
1487 Solano Avenue
Albany, California 94706
Hours:
Monday - Saturday: 10 am - 6 pm
Sunday: 12 noon - 4 pm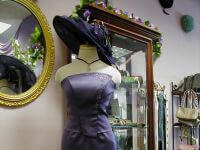 Women's clothing and accessories,gently used and new. Eclectic, excellent quality, seasonal merchandise in a boutique setting on bustling Solano Avenue.
L'Armoire is a green, women-owned and operated small business on dynamic Solano Avenue. We are a unique retail/consignment store that's a fun and exciting place to shop.

L'Armoire provides carefully selected, gently-used women's apparel and accessoriesat extremely reasonable prices. Quality, taste, and customer service are our trademarks!

* L'Armoire promotes the green "mantra" – reduce, reuse, and recycle!
* L'Armoire supports local artisans by stocking their unique creations.
* L'Armoire provides a showcase setting for consignee sales.
* L'Armoire serves our customers by providing "image enhancement".
* L'Armoire is a fun and fabulous place for women to gather!

L'Armoire is not only in the business of clothing sales; we also enhance your shopping experience and provide a community service!

L'Armoire is the place to examine, enjoy, and purchase high style, quality clothing that has been inspected, approved, and prepared for sale by our dedicated and knowledgeable
Staff. In addition to clothing, we provide:

* stylish shoes & fabulous purses
* beautiful scarves and shawls
* hats and gloves, from simple to smashing
* an extensive and eclectic collection of fine and costume jewelry
* unique and tasteful gifts, objets d'artes, and decorative items
* from vintage through retro to the latest, for everyday to evening and from work or play to costumes and special occasions
* "image enhancement services" that open the heart, mind, and eye to your individual beauty and unique personality; we can show you the uses and values of color, texture, and line to enhance your hair, eyes, skin, body type, and personal style
* positive honest feedback and sales assistance.
Hours:
Monday - Saturday: 10 am - 6 pm
Sunday: 12 noon - 4 pm
More San Francisco & Bay Area Womens Consignment Shops