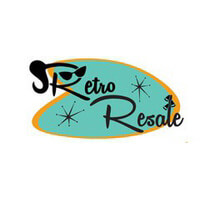 Retro Resale
(858) 300-7749
8170 Ronson Road, Suite K
San Diego, California 92111
Hours:
Weds thru Sat 2-6pm; or by appointment, contact us by phone or email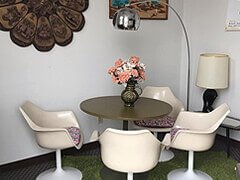 Large vintage zodiac wall art is a one of a kind piece. Made of fiberglass reinforced with rebar. Very well executed bas relief of all the signs of the zodiac with a sun in the middle. The background is brown with a kind of bronze detail and a bit of red poking through here and there. Absolutely stunning, a real statement piece. 42" diameter. Wire for hanging on the back. Will ship to the lower 48 United States.
Price: $399.00
Item: 1042142051
September 12, 2016
Mid century small sofa in excellent vintage condition. Upholstery is ginko leaves and shades of taupe, gray and gold. The cushions are down filled. The seat cushion is button tufted on both sides. This sofa was custom made for the original owner in 1965. Super clean and very comfortable! Dimensions are 65" l x 32" d x 24" t, seat is 16" t.
Price: $139.00
Item: 1042141811
September 12, 2016
Mounted vintage barbed wire collection includes 20 pieces of different wire types, all from the 1800s. Mounted on a board with burlap backing and labeled "the wire that won the west". Measures 49" w x 33" t. Each piece of wire is about 20" l. One repair on the bottom corner of the frame as pictured. Great for a western themed room or restaurant.
Price: $129.00
Item: 1042146566
September 12, 2016
Large vintage oil on canvas impressionist painting of a Chinese trading junk on the water. Bright vivid colors of orange, gold, brown and greys. Heavy gothic frame. So striking, photos don't do it justice. The frame is separating a bit at the corners but is structurally sound. Dimensions are 42" x 30", painting itself is 24" x 36".
Price: $199.00
Item: 1042143895
May 17, 2016
Mid century upholstered twin headboard with frame. Super cool shape. Upholstered in a grey pattern over white background. Kind of asian medallions. Excellent condition and includes the frame. Dimensions are 38" tall at the side, 39" wide.
Price: $125.00
Item: 1042141158
January 23, 2016
&nbsp&nbsp&nbsp1&nbsp&nbsp&nbsp
Hours:
Weds thru Sat 2-6pm; or by appointment, contact us by phone or email
Please note that some items may be sold by the time you see them online. Please call to confirm a specific item is available, or visit to see everything in our store. Not responsible for typographic errors in price or description.
More San Diego Vintage Shops