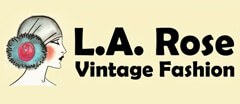 L.A. Rose Vintage Fashion
(323) 938-9909
8064 Melrose Avenue
Los Angeles, California 90046
Hours:
Monday to Friday from 11:30 a.m. to 6:30 p.m.
Saturday from 12:00 p.m. to 6:00 p.m.
Sunday by appointment or chance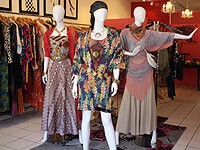 High fashion, expertly selected women's vintage with select items altered to meet today's current styles.
L.A. Rose Vintage Fashion includes everything from silk dresses to ditsy florals, playful sweaters to dramatic evening wear, Indian cotton tunics to embroidered tops.

All pieces are selected for their beauty, rarity and wearability. There also are one-of-a-kind garments fashioned from vintage textiles, plus an assortment of bags, belts, scarves and baubles to round out the selection.
Hours:
Monday to Friday from 11:30 a.m. to 6:30 p.m.
Saturday from 12:00 p.m. to 6:00 p.m.
Sunday by appointment or chance
More Los Angeles Vintage Shops