Instagram isn't just for taking selfies and photos of your food. It's the one of the most popular social media apps, with over 90 million US users (300+ million worldwide). Users spend upwards of 20 minutes a day in their Instagram app, browsing photos from friends, celebrities, and retail brands.
Now, as more fashion consignment stores create Instagram accounts, younger and mobile-savvy shoppers are following their favorite local shops, too. If you're not already using Instagram for your consignment business, now is the perfect time to start.
A Beginners Guide to Instagram for Womens Fashion Consignment Shops
Unlike Facebook, which is equally usable on a desktop and mobile app, Instagram is primarily used via the Instagram app on an iPhone, iPad, or Android device. In fact, the very purpose of Instagram, sharing photos, can only be accessed with a mobile device. That means you must take your photos with your phone or tablet, and share them through the Instagram app.
If you don't already have an Instagram account, you may create one at instagram.com, or, preferably, by downloading the Instagram app and following the on-screen instructions.
Tips for Your Instagram Account
When setting up your Instagram account, be sure to add your store logo. Make sure the logo is clean and bright, so it's legible on a phone. Shoppers will be seeing your logo in the small area next to your account name, at the top of each post.

On your profile page, you are allowed only one link. If your website is mobile friendly (meaning that it's easy to read on a phone), then go ahead and link to your website. However, if you're website is not mobile friendly, then link to your Facebook page. Or, link to your listing on Showroom Finder. All listings on Showroom Finder are mobile friendly.
Also in your profile page, be sure to include your city, state abbreviation and phone number. Include your address if you want, but note that the address will not link to a map.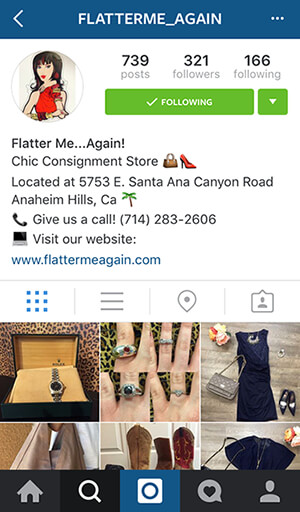 Once your account is setup, it's time to start following fashion brands that are meaningful to the merchandise in your store. For example, if you feature Coach purses, then search for Coach (click the magnifying glass icon at the bottom of the screen) and select +Follow. Look for the blue circle checkmark to confirm that you're looking at the official Instagram account.
You may also want to follow other consignment shops for inspiration for your own posts. I recommend these Showroom Finder members:
@twicethestyle (Twice the Style, Costa Mesa, CA)
@clothesheaven (Clothes Heaven, Pasadena, CA)
@namedroppers (Name Droppers, Salt Lake City, UT)
@ledressboutique (Le Dress Boutique, Atlanta, GA)
@flatterme_again (Flatter Me. . . Again!, Anaheim Hills, CA)
@fantasticfindsatlanta (Fantastic Finds, Atlanta, GA)
@labelslately (Labels, Atlanta, GA)
@qualityconsignments (Quality Consignments, Boonton, NJ)
@themulberrymuse (Mulberry Muse, Houston, TX)
Don't be surprised if some of these local consignment business start following you back! It's common for Instagram accounts to follow back new followers.
Creating Your First Instagram Posts
Unlike Facebook, where you can post a text-only message, Instagram requires a photo as the bases of your post. Fortunately, when it comes to Instagram photography, the only rules are to be creative, be fun, and be authentic. Check out these sample Instagram posts from our Showroom Finder members: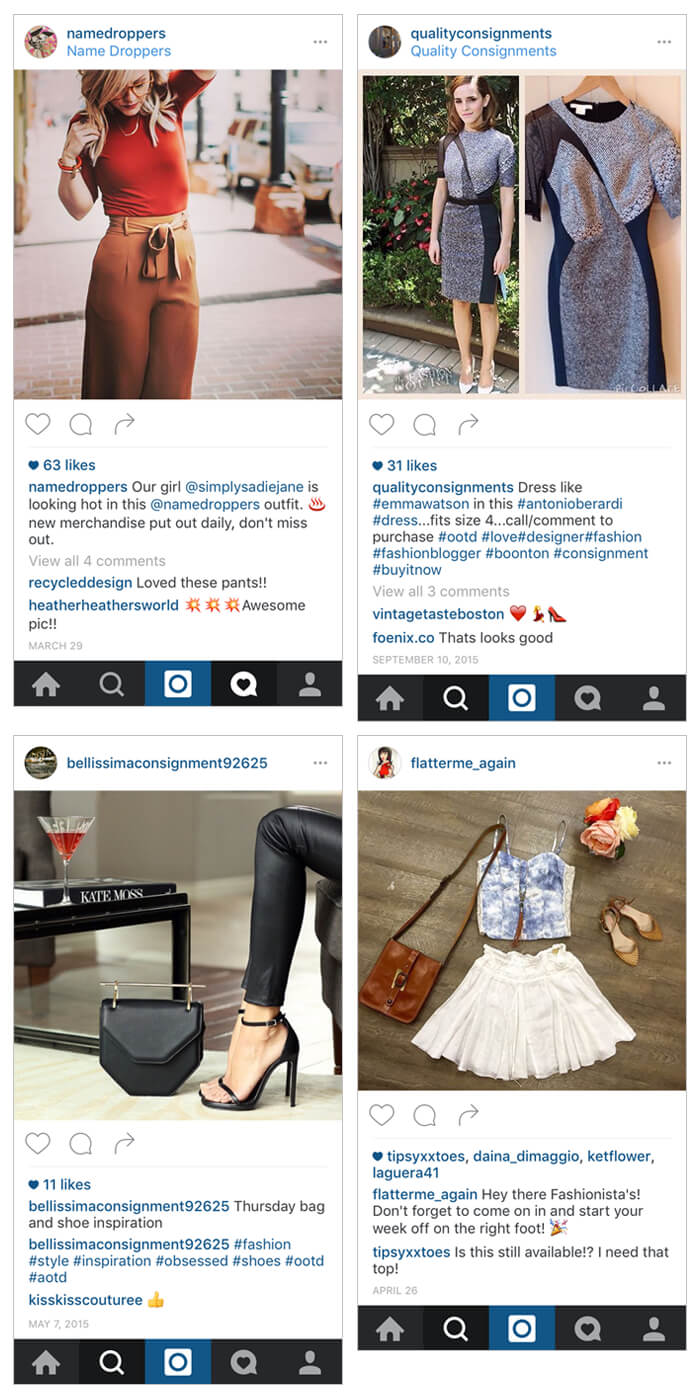 Using Hashtags with Your Consignment Shop Posts
Hashtags are a popular way to tag your posts. Every hashtag you add creates an automatic link, leading to a new page that collects more Instagram posts that also tagged with that hashtag. Adding hashtags is a critical step in getting awareness of your account and increasing your follower count.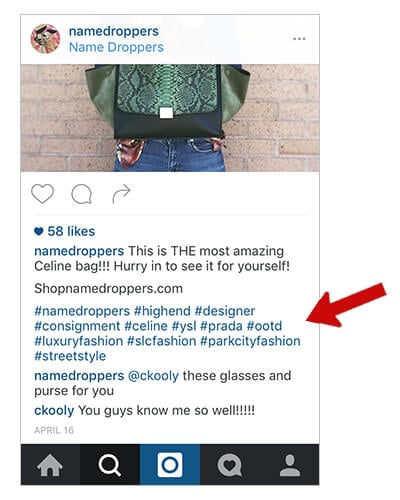 Not sure what hashtags to add? Follow other fashion and consignment shop Instagram accounts to get ideas. You'll quickly see which hashtags are commonly used.
Instagram for Fun and Profit
Instagram is a fun and worthwhile way to reach the growing trend of mobile shoppers. It's worth taking time every couple of days to post a photo on your Instagram account. Soon you'll establish a new group of social followers and open a new channel for attracting customers.